St. Patrick's Day Games to Play With Kids
Whether you have a few kids or a lot of children running around your house this St. Patrick's Day, one thing is for sure: they will be up to their usual antics and mischief.
And while some parents look forward to the shenanigans on the day we commemorate all things green and Irish, others dread them because it means their homes will be trashed and pandemonium ensues. Whether you like it or not, the time has come when we must break out the games and activities that keep our little leprechauns busy.
Let us not delay any longer; here are 7 fun St. Patrick's Day games for kids!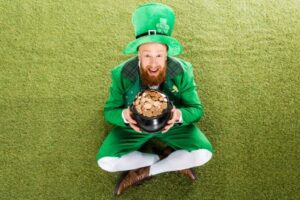 1. Leprechaun Hunt
A lone leprechaun has snuck into your home and hidden somewhere in the house (or yard). The mission: to find him and capture him before he manages to escape!
Put a bowl over his head and tape it there with strong tape. While you're at it, tie up his hands behind his back with some rope. Or, simply attach a 'pot of gold' to his back while you're at it; use candy or some other fake prize.
The kids will be occupied for hours with this game because the leprechaun will either end up hiding in places where there are many different places to look (like under couches and behind curtains) or he'll get away right before they find him which can get frustrating). Either way, everyone wins.
Some variations on this game include using multiple leprechauns instead of just one. Put all of them together in one place (let's say your closet) and divide the kids up so they have to stick together. Each child will have a leprechaun to catch, but you can also let them work together as a team if they want.
Another variation is adding a time limit to the game or adding a second leprechaun hunter into the mix. The latter turns it into a competition, where each player needs to find their assigned leprechaun first to win the game! Whoever finds both of them first wins!
2. Pot of Gold Hunt
This is another simple one that requires little to no prep at all. All you need to do is get a few rain boots or some other kind of shoes, preferably having a black base with a colorful lining somewhere on it. Be creative! Other variations include simply painting your child's shoes in a rainbow-esque pattern if you don't have time for this activity.
Fill the boots about halfway up with small plastic coins (fake coins if you're using them as party favors), add in some green paper shamrocks here and there, and fill the rest of the boot with dirt or sand. Sprinkle around some glue and glitter to add an extra bit of glimmer to your shamrocks if you so desire.
Now, wait for the hunt to begin! Hide these around the house and let the kids go out and find them (and exchange them at the party's end for candy or prizes). You can even make this one into a competition like Leprechaun Hunt by adding in multiple pots of gold or multiple people looking for them.
3. Lucky Charms Board Game
This is a recreation of the popular board game Candy Land, but with a little St. Patrick's Day twist! You can play this by itself or you can download it to print onto card stock and glue together using your child's favorite art supplies.
There are two different downloads: one that is more suited for toddlers and preschoolers (with images that are easy to identify), and another for those who want a bit more of a challenge (for those in kindergarten and up).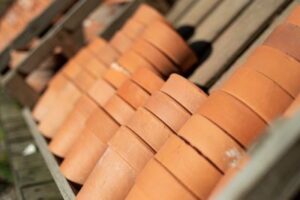 4. Paint Pot Stacking
This game might be better served for older children, but if you have older kids at the party who are having fun playing with their friends already, go ahead and make it work. This is also a great choice for groups of children to play together since it involves working together as a team!
Just group everyone up by age or even number of people (the more children you have, the more paint pots they'll need), gather some construction paper cups, broken crayon pieces, tape, scissors, and droppers.
On each cup, draw around it in a black marker to use as a template for the child's mouth. On the other hand, if you're struggling to find such paint cups for this activity, just use Solo cups and put some tape over the opening beforehand.
Cut out four or five large leaf-like shapes from green construction paper or card stock, then cut similar leaves out of different colors of tissue paper. Before beginning, show your kids how to crush up crayons into tiny pieces – it doesn't matter whether they are broken in half or not! Just make sure that most of them can fit inside a dropper easily.
Place one cup in the center of each sheet of construction paper with its mouth facing outward (think totem pole). Children take turns picking crayon pieces out of the dropper and pressing them into the paper cups. If they run out, have them take turns with another team member to pick up more crayon pieces when it's their turn again.
When all cups are full, fold each sheet of construction paper in half lengthwise so that the paint pots are still visible on top but covered on the inside. Cut slits along three sides near where you've folded them in half, then tape down all open ends with two strips of tape per corner (one vertical strip and one horizontal).
Lastly, fill up your paint pots by dropping a few droplets of water into each pot until they're filled to the brim! Now for the fun part! It's time to shake them up (really, you can give them a little shake), then carefully open them back up. Help the kids to remove all of the tissue paper pieces gently so that their paint pots are shining bright!
5. Kids Leprechaun Trap
Leprechaun traps are fun to make whether or not you're actually trying to find some leprechauns that might be hiding somewhere on your property. Use this one for very young children, especially if they're still having problems distinguishing fantasy from reality.
However, if you have older children who know better than to swallow gum shaped like pebbles or to eat rocks without asking permission first, use it freely with everyone! Just be sure that the children know that they'll have to work together as a team for this activity just like all of the others, and you're set!
To start, gather some construction paper in green, white, and yellow. Cut out just about any shape with at least one open space inside – clovers are the easiest option here. You can also cut open small circles or squares if you think your kids are old enough not to swallow them! Make sure they're big enough so that children can see what's inside when it's time to attach their lures.
Once you have everything ready, send each child into another room or outside with everything but glue. Now give them one stem-like strip of green construction paper (or green crepe paper, which is a bit sturdier) with several dots of white and yellow glue.
Once they've got their stem and they're standing in the room where all of the construction paper shapes are, tell them to take turns gluing on whatever they want! It might be helpful to give them a list of options for this part: clovers (obviously), shamrocks (just three-leafed clovers would work), or even something like four-leafed grass if they think it looks nice enough.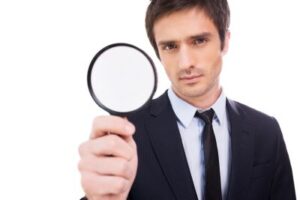 6. I Spy St. Patty's Day Version/Scavenger Hunt
There are two ways that you can play this. One way is the gather your party of kids and tell them "I Spy a _____" and shout out a St. Patty's Day item that is hidden someone in the playing area. The kids will all go throughout the area trying to be the first ones to find the item that you have hidden.
When the child finds the item, they run back to you and win that round. You can even have fun with it and have the winners do an Irish jig before they are declared the winner.
You can also make this a scavenger hunt by hiding multiple items and giving each child a treasure map or list of the items that they need to collect. The one that collects all of the most items wins the game.
7. St. Patrick's Day Minute to Win It
This is a quick fun game that you can do! All you need are several boxes of Lucky Charms cereal. Everyone gets a spoon to see who can pick out the most marshmallow pieces from a bowl of Lucky Charms cereal.
You can do this in rounds by having a giant bowl and a few contestants. You can add challenges by assigning points to different shapes or having them use the spoons in their mouths instead of holding them in their hands.
Well, now, you should be ready for all of the kiddos to not only be entertained but ready for the next holiday full of games. And since this will be a hit, you will probably be asked to lead those games, too. Don't worry. We'll have your back.