Most Popular Board Games of All Time
Board games have been the center of fun for years. I have so many memories of playing board games with my family and friends. Card games were especially a favorite to play with my grandparents even if I always lost! Almost every family has a shelf or closet full of their favorite board games and many families likely have a lot of the same ones.
As of today, there are hundreds of different board games out there, but one looks to be the most popular among all – Chess. The game of Chess has been around for hundreds of years and is remarkably still a favorite today.
In addition to Chess, you are likely wondering, what are the 10 highest-selling board games of all time? These familiar games have made the top 10 list:
Chess
Checkers
Backgammon
Monopoly
Scrabble
Clue
Trivial Pursuit
Battleship
Candy Land
The Game of Life
Are any of these games your favorite? Maybe your personal favorite didn't make the list and you are wondering why. To answer that, we have to look at why these particular games have been so successful. Why are they popular? What do they have in common, if anything? Have they simply just been around the longest? Let's take a closer look at each of these games to see why they are so well-loved.
1. Chess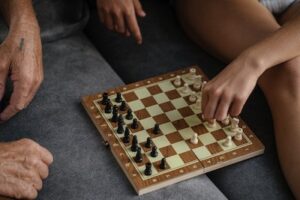 First, let's start with the number one selling board game of all time, Chess. Chess comes in many different varieties, making it appealing to all audiences. Whether you like your chess set to be simple and plain or detailed and complex is up to you!
While it is a very strategic game, the rules can be learned quickly. I remember how surprised I was when I first played chess. It wasn't as complex as I always assumed. I think that is one reason this game has been at the top for so long, simple but strategic!
Chess has been sold around the world for hundreds of years making it a cross-cultural game with international appeal. I think this is another reason the game has been so successful. It is unlikely it will ever lose its spot as number one! However, it does have a close rival – checkers.
2. Checkers
Next, on our list of the most top-selling board games is checkers. Checkers is a simpler version of chess and also tends to be more casual. It does not have the same cultural significance as chess but it still has been sold for ages!
It was popularized in Europe during Medieval times, where it became known as draughts. The rules of the modern version of checkers are pretty similar to those games of old! While Chess and Checkers are widely well known, the next game on our list may surprise you.
3. Backgammon
Backgammon may not be as common of a game, especially to the younger generation. However, it was extremely popular in the mid 20th century. Today, Backgammon is more of a niche market and players typically have to have played the game before or have known about it for some time. Its popularity may be slowly fading but overall it has still been a top seller for years.
While it is not as popular as Chess or Checkers, Backgammon still holds its own! Like Chess, Backgammon does have international roots, but its roots are much older and come from the Middle East and India! Now for a stark contrast, the next game on our list is almost guaranteed to be known and owned by nearly every family in America.
4. Monopoly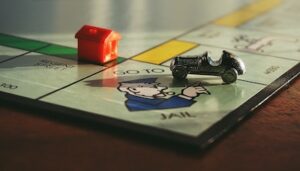 Monopoly is an American classic and it has taken over the world. It is by far the most popular board game to be sold in the USA! Monopoly tends to look like a more casual game at first glance because players don't move around much, however, there is a lot of strategy to it.
With so many ways to purchase properties and collect money, the player has a ton of choices- which makes this game extremely strategic and addicting! Even if your purpose is just to pass time, Monopoly will have you occupied for hours on end.
5. Scrabble
Next up at number five is the game of Scrabble. Scrabble is more of a game of skill than it is strategy. You can play an amazing game without having to think too hard about it. Many players know how to spell the most obscure words but they don't necessarily know their meaning. Part of the fun in scrabble is that you get to learn new words and test your skills against the player next to you!
Scrabble is likely a top-selling game because it is easy enough for anyone to learn but challenging enough for everyone to enjoy. It doesn't require any particular skill so many people can pick it up quickly and start playing immediately. Chances are most people you meet will know how to play this game, making it a great option for game night or a first date.
6. Clue
Who plays this game? Do they do it in the kitchen with a pen or a candlestick? The unique thing about clue is that it encapsulates everything – the game, like the mystery, plays out over several rounds. Players simultaneously work together and against each other to solve the mystery of who committed the murder. It requires strategy and critical thinking.
Players must use deduction and the process of elimination to solve the mystery and it is a great way for families or friends to bond by working together (or against each other). Clue has been around for years now but it has just recently been making a comeback into homes everywhere!
7. Trivial Pursuit
Trivial Pursuit has been around for decades and while it hasn't remained extremely popular over that time it has still managed to sell millions. There are many versions of this iconic trivia game but they all revolve around the same general concept – answering unique questions.
This isn't a game for the casual player, but if you like to battle friends and family with trivia questions this is definitely for you!
This game has remained a top seller because many people are intrigued by testing their knowledge of obscure facts and information. It's fun to see how much you can remember…or just guess!
8. Battleship
What does this game have to do with battleships you might ask? Well, in the original version of the game players were given coordinates instead of numbers. The board was laid out in a grid pattern and each player had to guess where their opponent's ships were to strategize about how they would destroy them!
It can be easily played by kids and adults alike. Battleship has successfully managed to remain a favorite for decades and continues to sell more than enough sets every year.
9. Candy Land
Ah, many of us probably have fond memories of this being one of the first games we played as children. It is a classic and simple game that has been around for over 50 years. Who doesn't love the idea of being a gingerbread kid in a candy cane forest?
Not only is it an easy game to play, but it can also help teach young children about color coordination and matching. Candy Land has remained a popular game for families for many years, it often sits on the shelf right next to our final board game – The Game of Life.
10. The Game Of Life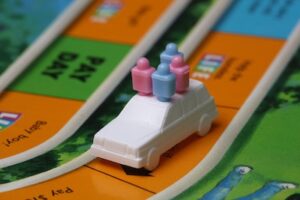 The final game on our list is one many of us grew up playing and continue to play as adults. The Game of Life is all about choices and consequences.
It can be extremely fun to play with all the unique little pieces like cars, houses, hot air balloons, but it's also a game that requires a little bit of strategy.
You may find yourself thinking about what your actual life would be like as you go through various stages and milestones. This is a great family board game that allows everyone to play at their own pace, but it can also be quite competitive!
What Makes Board Games So Popular?
There must be something about board games that keeps them popular since many people continue to buy new board games every year even if they already have a large collection at home. They are a great way to pass time with family and friends in a fun and engaging way!
Some people might argue that technology has made board games obsolete but this isn't the case at all. In fact, according to Hasbro's annual report, video games haven't been able to keep up with the sales of board games – and this trend is continuing.
This list of top ten board games is popular because they can be played by people of all ages. There is also a certain nostalgic quality about playing these games. Many of us have fond memories of specific board games from when we were kids. It's fun to now be playing those same games with our kids. So once you've played all these top-selling board games, head out and grab a couple of new ones and keep the fun going!