Try These Games When You Have A Large Group
Whether you are getting together with family during the holidays or have a work party where you're in charge of entertainment- you need some great games that are perfect for large groups. While it can be a daunting task trying to find games that work with a large group- it is not impossible! So that is what we are talking about today! We've broken up the games into different categories so you can find the type that fits your group best. So, what are the best games to play with a large group?
Games that are easy to learn and quick to play
Games that can be played in teams
Games that are physically or mentally challenging
Games that are great for all ages
Games that are enjoyable regardless of specific skills
So now that we have a better idea of what types of games are best for a large group, let's break down why these are best and examples of games to go with each!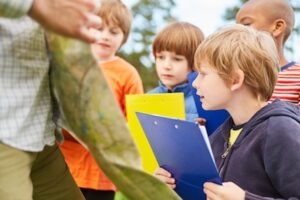 Try These Games That Are Quick To Pick Up On
Spending time with friends and family is great but sometimes it's hard to find the right game to play. That's why games that are easy to learn and quick to play are great when you have a limited amount of time or lack specific knowledge about board games. Also having some easy-to-play games always on hand will help when you're not feeling the most creative. A few examples of games that are easy to learn and quick to play include:
Codenames – A word association game where players are split into two teams and must guess the right words to move up the board.
Cards Against Humanity – The classic party game where you fill in blanks of humorous phrases with cards from your hand.
Uno – The classic card game where you compete to get rid of your cards first.
Large Group Games That Are For Teams
Sometimes it can be hard to play a game with a large group and have everyone involved. That's why games that are perfect for teams are so great. It allows everyone to engage in the game but also feel like they have their own team. A few examples of games that work best when played in teams include:
Scavenger Hunt – Have teams compete against each other to find hidden items or clues as quickly as possible.
Pictionary – A classic game where one person draws a picture on paper while their team tries to guess what it is.
A Relay/Obstacle Race – A physical game where teams compete against each other, running and completing obstacles. This is a great one for outside!
Trivia – Teams can compete against each other to see who knows the most facts about a certain topic or theme.
These types of games are great to play with your work associates or a large family as most traditional board or card games have a player limit of 6.
Games That Are Physically Or Mentally Challenging
If you're looking for some games that require more strategy or are more challenging, then you are in luck. These types of games require more skill and thought which can be a great way to pass the time with a large group. Examples of these types of games include:
Outdoor Obstacle Course – Create a course with items that need to be found or tasks that need to be completed.
Team-Building Activities – Games such as the Marshmallow Challenge and Human Knot are great team-building activities that require creative problem-solving with a large group.
Escape Room – Players must work together to find clues, solve puzzles and escape the room in order to win the game.
Poker – A classic card game where players bet chips on their hand and those with the best hand at the end of the game wins.
Physical or mental games should only be chosen if you aren't constrained too much by time and have a group of people who are comfortable with the level of challenge.
Large Group Games That Are Great For All Ages
Not all games are suitable for a large group that has a wide range of ages, so it can be hard to find one that works. However, there are some amazing games out there that accommodate everyone and make sure everyone has a great time! A few examples of these types of games include:
Charades – A classic game where one person acts out a phrase while the other players try to guess what it is.
Spoons – A card game where players draw and pass cards around the table in order to collect four of a kind. When they do, they reach in the middle for a spoon before anyone else.
Headbandz– A game where players must guess what's on their headband (or forehead) by asking questions from the other players.
These types of games are great for a large group of all ages and can provide hours of fun! You would be surprised at how much adults can equally enjoy games that are marketed to younger kids so give it a shot!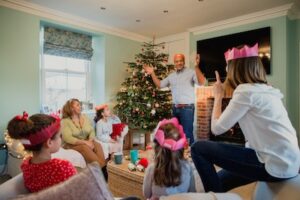 Group Games For Any Skill Level
Playing games together can be great fun, regardless of ability and skill level. Whether you're gathering with close friends or coworkers, there are plenty of great options out there that everyone in the group can enjoy. Family-friendly board games are an obvious choice, as they bring out people's playful sides while allowing them to interact with one another on a shared objective. Party games like charades also promote team spirit and are great to play with your work friends. So for large groups who don't play games often, here are a few that require little to no skill to play:
Catchphrase – Players have to guess what the other players are saying before they figure it out.
Taboo – A classic game where one person has to get their team to guess a word without using the five taboo words associated with it.
Jenga – A physical game where players take turns removing blocks from a tower and placing it on top.
These are just a few of the many great games you can play with a large group that requires little to no skill or setup. So get together for some fun, laughs, and good-natured competition!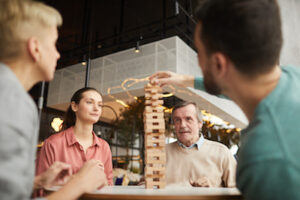 Tips For Planning A Game Night For A Large Group
Now that you know some of the best games to play with a large group, it's time to plan an amazing game night. Here are some tips for planning an unforgettable game night for everyone in your group:
Choose games appropriate for your group – choose games that fit the demographic and skill level of your group so everyone can have fun.
Make sure to have choices- have several games on hand so that everyone can find something they enjoy playing.
Provide snacks- make sure to have snacks or refreshments available in case anyone gets peckish during the games!
If possible, offer prizes- offering prizes can make the games more exciting and fun for everyone.
Keep the mood light and fun- make sure everyone is in a relaxed, positive mood so that everyone can get the most out of the games. With a large group, it's easy to get too competitive or rowdy, so keep things relaxed and in control.
Make sure you participate too- nothing is worse than a host or organizer who doesn't join in the fun. So make sure you are playing as much as possible as well!
Final Notes
No matter if you're hosting a game night with family, friends, or work colleagues, these games will be sure to provide memorable entertainment for everyone involved. The best part about these games is that they can easily accommodate large groups and create an enjoyable experience for players of any age or ability level. Remember that even simple games can bring out the competitive spirit in all of us, so what are you waiting for? Go get your game on!
Related Questions
What is the best game to play with a large group of adults?
One of the most popular games for a large group of adults is Cards Against Humanity. This game is both funny and challenging and can be enjoyed by everyone in the group, regardless of their sense of humor or skill level.
How long should you play games for?
The length of your game will depend on the type and complexity of the game you choose to play. Generally, simpler games can be completed in under 30 minutes while more complex ones may take up to an hour or two. It's also important to consider how long everyone in the group is willing to play and adjust accordingly.
What are the best games to play with teenagers?
Teenagers are often looking for more challenging and exciting games than their younger counterparts. Popular options include party games such as Taboo or Apples to Apples. Strategy-based board games like Settlers of Catan can also be a great choice, as they offer plenty of engaging challenges that require critical thinking skills.