Family Games to Play Around the Campsite
Taking trips to go camping with the family has never been more fun! Camping is an easy and cheap way to get away for the weekend, making it a popular family pastime. After camping with my family over the years, we've figured out the best list of campsite games to play that are sure to get everyone involved and make for a memorable trip!
What is the best campsite game for the entire family? That is a tough question, as there are so many great games to choose from. But if we had to narrow it down, our top pick would have to be Camping Charades! This game is perfect for all ages and can be played with any number of people. Another family favorite is I Spy, which is perfect for little ones.
Many parents think it's impossible to get their children away from their tablets and iPhones, but after trying out a few of these games the previous years, we guarantee that these games will keep the little ones entertained for hours on end!
8 of Our Family's Favorite Camping Games
Here are some of the top campsite games to play with your family: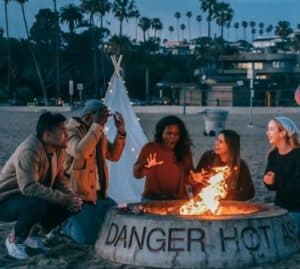 1. Campsite Charades
This classic game is a great way to get everyone involved in the spirit of family fun! Camping Charades involves acting out different objects, animals, people, and places as quickly as possible. Campers work together to guess what the leader is portraying before the time runs out!
For added difficulty, make sure to play with music in the background or even better – outdoors where there are lots of distractions from nature itself! Campsite Charades can be played by two teams at once, which makes for double the laughs and entertainment!
2. Campground Scavenger Hunt
After walking around our campsites all day long hiking trails and playing games, it can sometimes feel like we've explored everything there is to see within five miles!
To combat this, we love to do a Campground Scavenger Hunt. This is especially perfect if your campsite has a lot of neat features or landmarks – like a river running through it, beautiful forests, or an abandoned cabin in the woods.
Split into teams and have each team member take turns being the 'hunter'. The hunter will then have to find something specific (for example a rock that is painted red) and take a picture of it with them holding the item. Once they have found all of the items on their list, they can head back to camp and declare themselves the winners!
3. I Spy
This childhood classic game is always a favorite when camping! I Spy can play with any number of people and is perfect for any age group. The goal is to see who can spot specific objects first and call out the name of the object. Not only does this game keep everyone entertained, but it also sharpens your senses as you search for objects in your surroundings.
4. Inch by Inch
This is another great game for all ages! Similar to Hot Potato, Inch by Inch is a game of elimination. Campers sit in a circle and pass a small item (like a beanbag) around while music plays. Once the music stops, whoever is holding the item has to start counting '1 inch, 2 inches, 3 inches' etc until they reach 100.
If they stop before they reach 100 or if they say something other than what was said previously, they are out of the game. Campers who reach 100 without saying anything wrong are declared the winners!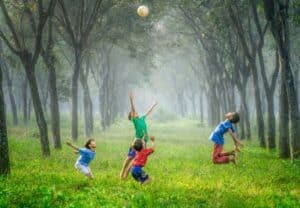 5. Amazing Race
Perfect for families with teenagers or even just adults, Amazing Race is a good way to keep everyone entertained and active! Campers split into teams and each team is given an envelope containing clues about their next destination. Campers must follow these clues step by step around the campsite until they finally reach their destination (a large common area like a group fire pit).
The first team to make it to the common area wins! It's not as easy as it sounds- getting lost on the trails can sometimes cause this game to go on for over two hours! You will never be bored if your family is playing.
6. Capture the Flag
This game is a classic for all ages! Campers are divided into two teams, each with its base. The goal of the game is to capture the other team's flag and bring it back to your base.
If you get tagged while carrying the flag, you have to drop it and go back to your base. Campers can either play this game by running around or they can use bikes or even kayaks to navigate the waters around the campsite – just be careful not to lose any flags in the process!
7. Campsite Olympics
This is our favorite way to end a fun-filled day at camp! Campsite Olympics involves all sorts of different games that can be played outdoors, from games to relay races, and everything in between.
Campers get divided into teams of three or four and the team with the most points at the end wins! Campsite Olympics can also easily be turned into Campsite Field Day for school-aged campers by making the campsite games more educational (example: Camping Scavenger Hunt where each item is part of a math equation).
8. Campfire Circle Games
As good as it feels to come back to your tent after an exhausting day of hiking, there's nothing like spending some time around the fire circle relaxing with family and friends. Campfire Circle Games are great ways to keep everyone entertained while sitting around the circle – these include classic board games like Yahtzee, Campsinking games, and even "I Never" cards.
Camping wouldn't be complete without warm family memories playing campsite games around the fire!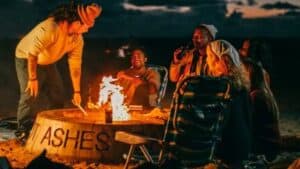 Campsite Tips To Remember For the Family
Camping is a great way to spend time with family and friends. It can also be a lot of fun, but there are some things you need to remember when camping. Here are some tips to help you have a great time camping:
Campsites vary in terms of what is provided. Make sure you know what is included in the site fee and what you will need to bring with you.
If you are camping with kids, make sure to pack plenty of activities for them to do. Board games, Frisbees, and balls are all good options in addition to the ones listed above.
Be prepared for weather changes. Weather can change quickly while camping, so make sure to pack clothing and gear.
Always clean up after yourself. Leave the campsite cleaner than you found it.
Respect your fellow campers. Keep noise levels down and be respectful of their space.
Camping can be a lot of fun, but it is important to remember these tips to ensure a safe and enjoyable experience for everyone involved.
Don't Forget These Campsite Snacks
The best campsite snacks are ones that are easy and convenient to eat. We also took into consideration snacks that are filling and provide plenty of energy. Here are our top picks:
Trail mix: This is a great option because it is packed with protein.
Fruit: Fruit is a healthy and convenient snack, and it doesn't need to be refrigerated.
Granola bars: These are another good option because they are easy to eat and provide energy.
Sandwiches: Sandwiches are classic camping food and they are easy to make on the go.
Chips and dip: This is a quick and easy snack that everyone will love.
Jerky: Jerky is a high-protein snack that is perfect for camping.
Smore's: These are a classic camping snack and everyone will love them.
Whatever snacks you choose, make sure to have plenty of water available so you stay hydrated. Camping can be a lot of fun, but being prepared is key to ensuring all your family memories are safe and happy.
Games to Avoid Playing At a Campsite
Campgrounds usually have paved roads and designated sites with picnic tables and grills surrounded by trees. Bringing along board games will add an element of fun and excitement to your camping trip!
Unfortunately, there are some games you should avoid playing at a campground because they may not follow specific rules or regulations, break the peace at nightfall, or become too rowdy for other campers to sleep through.
Bingo is one game you may want to avoid playing while camping. This game can get very loud and rowdy, making it difficult for other campers to relax and fall asleep.
Another game that can be disruptive is Catch Phrase. Although this game can be a lot of fun, the yelling and laughter that comes along with it can be too much for some people.
Remember to Have a Great Time
Camping games are perfect for when the sun goes down and everyone is gathered around the campfire. No matter what games you choose, be sure to have plenty of laughs and memories together. Camping is the perfect way to create family memories that will last a lifetime. So get out there and have some fun!